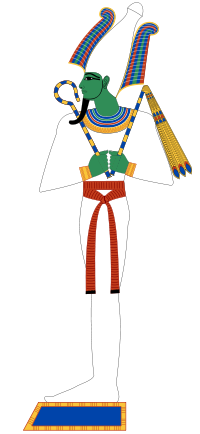 Osiris was an Egyptian god, usually identified as the god of the Afterlife, the underworld and the dead. Osiris was at times considered the oldest son of the Earth god Geb, and the sky goddess Nut, as well as being brother and husband of Isis, with Horus being considered his posthumously begotten son. He was also associated with the epithet Khenti-Amentiu, which means "Foremost of the Westerners" — a reference to his kingship in the land of the dead. As ruler of the dead, Osiris was also sometimes called "king of the living", since the Ancient Egyptians considered the blessed dead "the living ones". Osiris is first attested in the middle of the Fifth dynasty of Egypt, although it is likely that he was worshipped much earlier; the term Khenti-Amentiu dates to at least the first dynasty, also as a pharaonic title. Most information we have on the myths of Osiris is derived from allusions contained in the Pyramid Texts at the end of the Fifth Dynasty, later New Kingdom source documents such as the Shabaka Stone and the Contending of Horus and Seth, and, much later, in narrative style from the writings of Greek authors including Plutarch and Diodorus Siculus. Osiris was not only a merciful judge of the dead in the afterlife, but also the underworld agency that granted all life, including sprouting vegetation and the fertile flooding of the Nile River. He is described as the "Lord of love", "He Who is Permanently Benign and Youthful" and the "Lord of Silence". The Kings of Egypt were associated with Osiris in death - as Osiris rose from the dead they would, in union with him, inherit eternal life through a process of imitative magic. By the New Kingdom all people, not just pharaohs, were believed to be associated with Osiris at death if they incurred the costs of the assimilation rituals. Through the hope of new life after death Osiris began to be associated with the cycles observed in nature, in particular vegetation and the annual flooding of the Nile, through his links with Orion and Sirius at the start of the new year. Osiris was widely worshiped as Lord of the Dead until the suppression of the Egyptian religion during the Christian era.

Keywords: godfather death bearer justice baba yaga goddess kermeese eros love affirmations horus roman goddesses gaea thesis voodoo curse heathen values asked curse someone northern tradition practitioner swedish asatru does people scandinavian

This entry was posted on 8 November 2009 at Sunday, November 08, 2009 . You can follow any responses to this entry through the .